"It's so great to be at a place where's there's some normalcy in my life."
That's what one of my clients told me this morning during her training session.
There's so much uncertainty with things in our environment right now that are out of our control.
This leads to fear, anxiety, and LOTS OF STRESS!
Instead I challenge you to start thinking about things you can control.
Here are 5 things to bring some normalcy back in your life:
1.) Workout-stress can cause brain fog limiting your capacity to get as much done. It also saps your energy and mood!
Working out increases your energy, improve your mood, and helps reduce your risk for chronic disease.
2.) Enjoy your loved one's-below is a picture of my son having a blast with bubbles in the backyard, not having a care in the world:).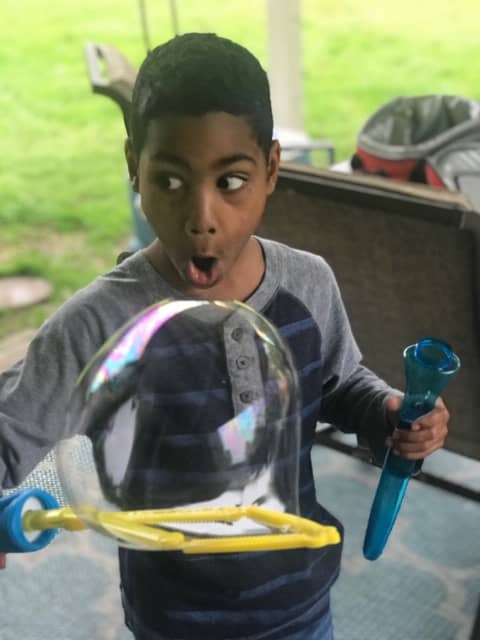 It's easy to get wrapped in the chaos and neglect those around us.
Make a point to invest in your loved one's today!
3.) Get Vitamin D-one of the best things to improve your body's immunity is to get plenty of sunlight.
Unplug from social media and go enjoy the outdoors.
I love to hop on my mountain bike and go ride for 45 minutes while listening to my favorite podcast.
4.) Eat immune boosting foods-have 1/2 your plate filled with colorful veggies to give your body the vitamins and minerals it needs.
Also focus on consuming things like garlic, elderberry syrup, honey, and green tea to boost your immune system.
5.) Go To Bed-not getting enough sleep leads to brain fog, grouchy mood, and increased chance of getting sick!
Instead come up with a relaxing routine to help you unwind and prepare for bed.
Take a long bath, read a book, and turn off your electronics.
What if we walked away from this with a new found respect of how valuable our health is?
This will all be over soon. The question is:
Will you be healthier for it?